Hiking in Santa Fe, New Mexico, offers a wealth of outdoor adventures and stunning natural landscapes. With its diverse terrain and proximity to the Sangre de Cristo Mountains, there are trails suitable for hikers of all levels. Santa Fe has the best trail for you from easy to hard hikes. 
Best Hikes in Santa Fe 
Atalaya Mountain Trail 
6.2 Miles | 1,797 ft Elevation Gain 
This popular Santa Fe tail offers incredible views outside Santa Fe, New Mexico. The trail is about 6.2 miles long round trip and takes an average of 3 hours and 40 minutes to complete. This trail is very popular, so you'll probably run into other hikers, mountain bikers, and runners. If you plan on bringing your dog on vacation, you can bring them on this trail as it is dog friendly.  
Dale Ball Trails 
24.4 Miles | Varied Elevation 
The Dale Ball Trail system is a fantastic network of natural-surface trails spanning nearly 25 miles. It's a popular choice for hikers and cyclists, just a short distance from downtown Santa Fe. Whether you're a beginner or an experienced hiker, these trails offer various options.  Trail users can easily navigate the system using trailhead maps and numbered junctions. Each junction provides local orientation maps, arrow plaques for clear direction, and connections to neighboring trails such as La Piedra, Little Tesuque, Santa Fe Canyon Preserve, Dorothy Stewart, and Atalaya Trails. 
 Nambe Lake Trail  
6.3 Miles | 2,057 ft Elevation Gain 
Walk, run, or bike this 6.3-mile round-trip trail to see some stunning views of the forest and Nambe Lake. Due to its difficult route, this trail takes an average of 4 hours. This trail has some steep portions that can be difficult for some people, so taking breaks as needed is encouraged. As you are near the lake, the trail can be difficult to follow. If you have time before the hike, print a copy of the map so you don't get lost. Trust us when we say the lake views are worth the hike.  
Tsankawi Ruins Trail 
1.6 Miles | 236 ft Elevation Gain 
Tsankawi Ruins trail is in the Bandelier National Monument, just 40 miles outside Santa Fe. This hike is a 1.6-mile loop popular for birding and hiking. This trail is mostly a rocky surface with tuff, or compressed volcanic ash, along the way. The Tuff is very fragile, so avoiding it while walking is best. As you walk along the trail, you'll encounter two ladders to help keep you on the trail. To access this trail, you'll need to pay a fee to get to the park.  
Picacho Peak Trail 
3.8 Miles | 1,230 ft Elevation Gain 
The Picacho Peak Trail in Santa Fe National Forest is a popular and frequently discussed hiking trail. It is of moderate difficulty and can be enjoyed from June to October, although it is technically accessible year-round. Dogs are welcome on the trail as long as they are kept on a leash. One of this trail's main attractions is its breathtaking views over Santa Fe.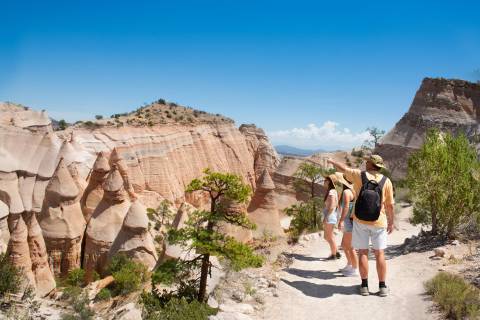 Best time of year to Hike in Santa Fe 
The best time to go hiking in Santa Fe, New Mexico, depends on personal preferences. Spring offers mild temperatures and blooming wildflowers. Summer brings warmer temperatures but also thunderstorms. Fall has pleasant temperatures and beautiful foliage. Winter offers a unique, serene experience but requires preparation for cold weather and potentially icy trails. Consider the weather, trail conditions, and personal preferences when choosing the best time for hiking in Santa Fe. 
Hiking Essentials 
To hike in Santa Fe, New Mexico, you'll need the following essentials: sturdy footwear, layered clothing, a comfortable backpack, sufficient water, lightweight snacks, navigation tools, a basic first aid kit, emergency supplies, communication devices, trail permits if required, and adherence to Leave No Trace principles. Always check the weather, inform someone of your plans, and be prepared for changing conditions. 
Book your Santa Fe Vacation Rental